Anne Frank's diary ended on August 1, 1944, but her life continued for seven more months.
In this meticulously researched portrayal of those months, the end of Anne Frank's life story is imagined through her eyes. From the "secret annex," the family journeys to Westerbork Transit Camp and then is on the last train from Westerbork to Auschwitz, before they are separated. Anne and her sister, Margot, end up at Bergen-Belsen, where they barely lose the race against time and die shortly before the end of the war. Read and accompany the real person through this sad, short journey.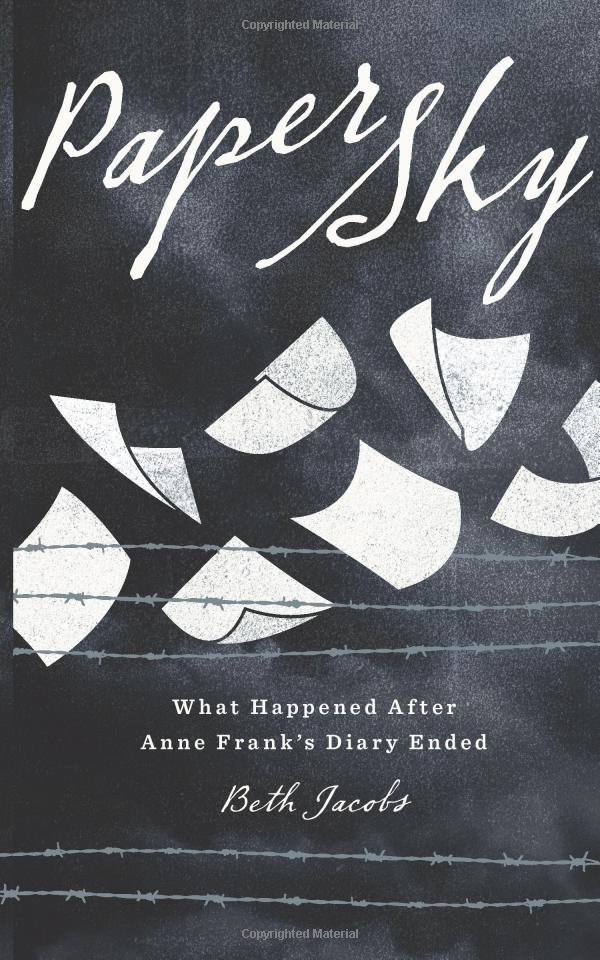 Excerpts from Paper Sky
The Frank family was first sent to a transit camp in Holland where conditions were relatively tolerable and writing supplies were probably available:
Being at Westerbork is filled with extremes of happiness and despair. Sometimes feeling the hot wind rolling off the heath and moving my hair and touching my cheek feels like the most beautiful blessing imaginable. Then I walk into the barracks where the three-tiered endless rows of rickety metal beds seem to extend into infinity. I wonder where the base of reality is and how I can ever manage experiencing such disparate emotions and seeing so much more than I can ever comprehend. I will save my descriptions of this place for hopefully another day, as I am exhausted from my third day of work separating batteries. I am so afraid, yet so relieved; to run, to see the sky change through the day, to speak loudly, to see new faces.
At the moment that Mr. Kugler walked into the Secret Annex followed by the German soldier with his gun and the five Dutch police, I thought life was over. A flood of images washed over me even as I froze in place. I felt the incredible shock of that moment, but with a smoldering core of familiar inevitability and resignation. Even as Mummy sank into the chair and Margot's eyes welled with tears, I knew that this was always going to happen, would never not happen, was going to keep happening forever and I knew what to do. I was like a sleepwalker moving through gelatinous fluid while my mind was flashing with the sharpness of Daddy's razor blade. It was over. The long wait, the stretched hope, the endless days of safety and frustrating confinement, every false alarm and moment of heart-pounding anxiety, come to its natural and yet inconceivable end.
Later, at Bergen-Belsen, it is unlikely that Anne would be writing, but she might be thinking to Kitty as her situation deteriorated:
I have not felt well and the infirmary is full so I can lie on the bunk during the day. Then I can really count the ripples in the ceiling well. Margot and I are near the door and all day and night I have to call out to people to close the door. Still the draught comes in and hits my skin. I am far away from my skin now so that helps. My toe is black. The shoes I have had the top cut out. Probably for a growing child. Now I have a black toe and Janny says she will fix it after the war.
kitty kitty kitty kitty

help me kitty kitty kitty

kitty kitty kitty kitty

kitty kitty kitty kitty

pretty nifty swift and icky

wipe away the day of missing

kitty don't you even listen

kitty kitty kity kitty

kitty kitty kitty kitty

mouth is dry, taste is gritty

kitty kitty kitty kitty

water, ouch, that person hit me

kitty kitty kitty kitty

kitty kitty kitty kitty
We go and see the Dutch children some days. I rub their backs and tell them stories I remember. I do not make up stories because they end up going sad and the children are already very, very sad. They don't know where their parents are and I at least know Mummy is waiting for me in Birkenau. They are all eyes and at night in my dreams sometimes they come to me only as large, round, dark eyes, blinking and blinking in disbelief.
Testimonials
Our commitment is 'to never forget' and yet it is easy to distance from this reality and not really feel it. This book is a significant contribution to the Holocaust literature and a must read.
Highly imaginative, sensitive, and thoughtful book from a talented writer.
Beth Jacobs' Paper Sky is a powerful addition to the works of those artists and writers from around the world, who, more than half a century later, continue to be inspired by Anne Frank's diaries.
You will walk away from reading this book, both longing to taste freedom and the final ending of this story, and the longing to keep that diary, scattered on the annex floor so long ago, safely locked away following Anne's last entry.